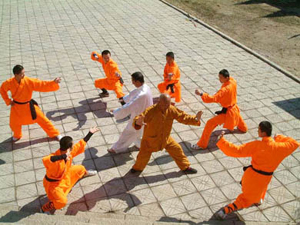 23rd April 2010
Itís a monk's life
ID Fight Unit members Stuart Boother and Ronin Traynor along with fight performer Sylvie England travel over land and sea to live as fighting monks live...

In the coming weeks, our team will begin their quest to enhance their fighting skills and knowledge, by visiting the fighting mecca that is China. Over two gruelling months they will live alongside the famed mountain temple protection monks and learn traditional Shaolin martial arts, putting their determination and resolve through the sternest of tests.

The Kunyu Mountain Shaolin Kung Fu School is located at the foot of the Kunyu Mountains, a serene mountainous landscape set in an environmentally protected area of natural beauty and cultural importance. Ideally situated away from the distractions of the modern world, it is a perfect location for a serious study of kung fu.



Our team are hoping to impart their hard-earned knowledge to the rest of us on their return and with those early starts and not a Starbucks in sight, we wish them the very best of British luck.