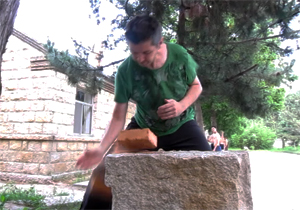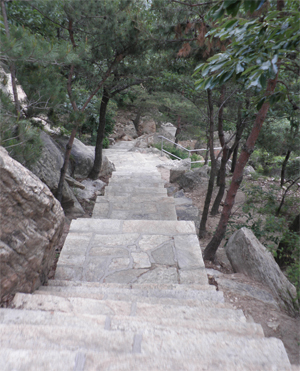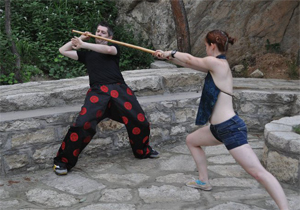 1st August 2010
Shaolin Adventurers - Part 4
The final step.
Stuart, Sylvie and Ronin are now back from their Shaolin adventures and are a bit fitter, wiser and definitely thinner. When asked to name their top 3 highlights, we were surprised at some of the answers as were they.


In addition to sessions focusing on learning martial arts, there were a number of classes designed to develop individuals for the rigours of sparring and general survival. These classes included conditioning, which involved hitting trees repeatedly and getting punched and kicked all over. Despite the bruises it helped prepare our guys for tasks such as breaking bricks.



Finally but by no means least was power stretching. If you had just walked in the front gate during this class, you may have been tempted to turn around and leave as you could hear the screams echoing from the training hall where people were discovering just how far they could bend and stretch, all with the help of two or three people pulling, pushing or standing on them.


Every Friday our ID Fight Unit members pit themselves against the mountain. This is possibly the hardest part of the week but also strangely the most enjoyable. The task is simple: run up and down the mountain steps 6 times. The problem is that by the time you walk up the mountain to reach the temple (which sits at the base of the steps) you are already knackered. The steps are cut into the mountain and are very steep. The first time you attempt to reach the top you think you will collapse with exhaustion and your legs will give way. Travelling down presents a different challenge in which you try not to fall over or off the edge of the steps as you tend to run quite fast due to the steepness.




Complete cheese, we know, but meeting great people made the experience for our guys. The other students were all up for the hard core training and there was a very supportive atmosphere. All the masters were amazing and the other staff were always helpful.

So there you have it. Two months of Shaolin adventurers. An unwavering routine of training contrasted with moments of amazement, which could have been taken directly from a Hollywood movie all wrapped up in a bundle of sweat and boiled rice. We are already planning the next trip...