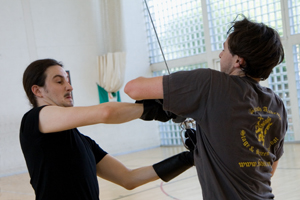 14th August 2010
Strength in numbers
ID Fight Unit members were out in force at this year's British National Stage Combat Workshop.
British National Stage Combat Workshop (BNSCW). Run by the British Academy of Stage and Screen Combat (BASSC), this 2-week workshop takes new students through 60 hours of training in Rapier and Dagger and Unarmed combat. For the more experienced students there are alternative weapon systems to learn and this year that meant quarterstaff and small sword.



Other ID Fight Unit members took the opportunity to keep their skills in check with Dita Tantang and Stuart Boother taking the intermediate / advanced workshop. Dita learnt small sword left-handed for fun having done it previously right-handed whilst Stuart got a chance to apply some the Shaolin staff techniques he recently learnt on the ID trip to China to his quarterstaff performance.

Independent Drama is also very pleased to welcome two new members to the ID Fight Unit who attended the BNSCW. Philip Nottingham who achieved his BASSC advanced certificate during the workshop, along with advanced actor combatant Katrin Klewitz.