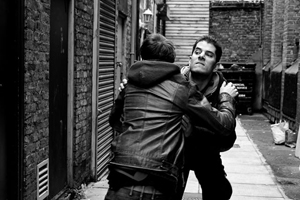 29th November 2010
Fight or Flight – what would you do?
If you witnessed someone being beaten up, would you step up or step out. That's the topic of short film 'The Choice'.
The ID Fight Unit recently finished filming on The Choice, a black and white film shot on standard 16mm and directed by Andreas Reksten. ID Fight Unit members Dan Styles and Daniel Tyler-Smith were on hand to provide the muscle for the bad guys with ID Fight Choreographer Ronin Traynor orchestrating the action and putting the odd boot in so to speak. The whole shoot was finished in a day's filming, which was quite impressive and helped by a good storyboard and efficient crew.