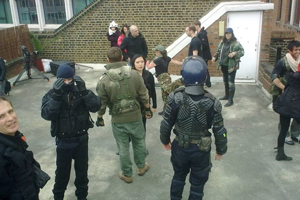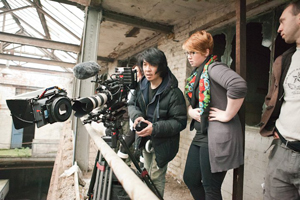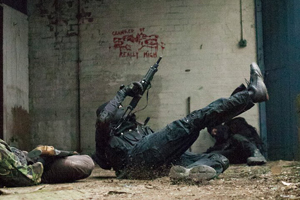 6th February 2011
Magnesium
Droids have moved on since the days of C-3PO. They just ain't all as friendly.
ID Fight Choreographer Dan Styles has been working as the fight/action co-ordinator on sci-fi action thriller Magnesium.

After his wife died three years ago, Tom Ihnatko (Mark Killeen) is persuaded by Frank (Jamie Menard), his friend, to try a BioDroid robot companion. He purchases Eve 3 (Gillian MacGregor) from the BioDroid Corporation. Unknown to Tom, Eve 3 is a re-purposed military robot reassigned to domestic duties. However Laporte, the sinister boss of the BioDroid Corporation, worries that the advanced technology inside Eve 3 may fall into the hands of the rebels, a group of terrorists fighting against the increased use of robots in warfare.

Laporte orders Eve 3's return and sends Adam 6 (Torquill), another robot to retrieve her. But thanks to her advanced emotions Eve 3 has begun falling in love with Tom Ihnatko and refuses to go back. She shoots Adam 6 in the head and the pair go on the run, joining up with the rebels in the process.

With the rebels, Eve and Tom must face an all-out assault by the BioDroid Corporation who send in SWAT forces and more Eve Assassin robots (Selina Lo, Momo Yeung, Haruka Abe, Miah Vu).

Dan Styles choreographed a brutal rooftop fight between Tom and three Eve Assassin robots as well as various action sequences between the rebels, SWAT and the robots in an old disused warehouse.



The film is being created by production company Wyld Stallyons who have produced high quality films, TV advertisements and animations for a range of international clients including ITV, Five and MTV. Most notably, Wyld Stallyons provided 88 visual effects shots for the movie Kick-Ass, directed by Matthew Vaughan (Layer Cake, Stardust).