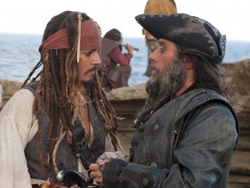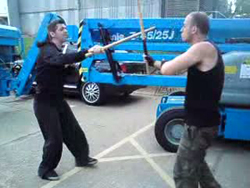 30th June 2011
On Stranger Tides
ID Fight Unit members ahoy.
Pirates of the Caribbean 4: On Stranger Tides has finally graced our screens in all its 3D glory. Quite a few ID Fight Unit members got to work on the production having survived the initial X-Factor style auditions where around two to four hundred hopeful fighters from all sorts of backgrounds, be it martial arts, stage combat, or re-enactment, were auditioning for special action performer roles in the film. ID Fight Unit members Enric Ortuno, Dan Burman, Matt Gardner, Philip Nottingham, Ronin Traynor and Stuart Boother made the cut and got to spend a week on location at Pinewood Studios fighting each day. They also got to catch up with fellow ID Fight Unit member Andrei Zayats who was filming X-Men First Class on another stage.



As word got around that Claudio was joining the fray, a hushed reverence began as stunt men and fighters alike began spreading his reputation and the excitement grew. Finally he arrived and the excitement was well deserved - he brought a professionalism and skill set to the rehearsal room which made everyone instantly raise their game. His ability to pick up any routine and perform it at lightening speed first time, whilst still looking so cool was awe inspiring.

As expected, weeks of hard work were cut down to a few heartbeats of background action in the film. But Stuart is pleased he got a nice soft focus shot of his face behind Jeffrey Rush before the fight began... and in 3D as well. Bargain.